Join Ebuno and start earning money with paid surveys!
The Best Survey Sites To Earn Money Online 2021
There are a lot of different survey websites today that offer you to take surveys in exchange for a small payout on each completion. So which of these websites could be worth signing up to and actually spend some time on? In this article, we are going to try our best to provide some useful information about the best survey websites in our opinion.
So how do you make money online with survey sites?
Doing paid surveys on the internet is an easy way to make some money. They may not pay much but most of the sites offer gift cards, real cash and other benefits for the people who help companies to understand the market better. The opinions you provide in the surveys helps brands and companies to make new and better products or services. Nevertheless, there are also fake sites that are only after your personal information and some of them never pay participants. This calls for vigilance when choosing the sites to invest your time in to avoid losing money or wasting time.
The best survey sites provide users with different ways of cashing out their reward. These payout options are PayPal, a prepaid visa credit card, Starbucks, Walmart, Amazon, Google Play, mailed check, online game codes, physical products, charitable donations or free gift cards. Some of the legitimate survey sites out there include Ebuno, CashKarma, Valued Opinions, Opinion Outpost, Inbox Dollars, LifePoints, MyPoints, Survey Junkie, Swagbucks, Toluna, Vindale Research, PrizesRebel, Pinecone Research and Branded Research among others.
Overview over the websites covered in this article:
Ebuno
Swagbucks
Survey Junkie
InboxDollars
MyPoints
LifePoints
Vindale Research
Toluna
Branded Research
PineCone Research
1. Ebuno
Ebuno is a survey websites that has a modern and an easy-to-use platform which often is comfortable especially when you are a new user. We here at Ebuno really focus a lot to be able to provide the best possible surveys for maximizing your revenue and saving as much time as possible.
So let's get to the good stuff. How much can you earn? How long are typical surveys? How often do you get screened out? How much is the earning potential? How does the referral program work? Can you get any bonuses?
How much can you earn at
Ebuno

?

This is always a hard question to answer and we can't give an exact answer either. It all comes down to your demographics and location. Some countries have a much higher average payout for each complete as companies tend to target people living there and are willing to pay more for their opinion. The highest paying countries are most often: Finland, Sweden, Norway, Switzerland, Germany, Australia, Denmark, USA, UK, Austria, United Arab Emirates and Saudi Arabia.

Even if the countries mentioned above are the highest revenue per survey doesn't mean you can't earn a good amount on paid survey sites. Countries like Japan, France, Italy, Spain, Russia and Brazil have a high amount of unmet demand for survey companies which means there are a lot of surveys available for these users.

So how much can you actually earn? Well the average payout per survey is about $0.5 USD per complete and the average time for these surveys are typically around 7-8 minutes. Please keep in mind that these values can vary a lot depending on several factors.
How does the screening process work?
If you haven't done surveys on websites like Ebuno before, you might be unfamiliar with what a screen out is. A screen out is when a user doesn't meet the requirements for the specific survey entered. We do try to match you before you enter a survey as good as possible but unfortunately, we do not get the exact requirements for the surveys so it is impossible to have a 100% matching rate. On Ebuno, you will have roughly 30% of success rate with surveys which is a pretty good bit over the industry standard.
Referrals and bonuses
Ebuno offers a referral system which gives you 10% of what your referral makes on surveys. So if you would refer 100 people using your personal URL, and each person completes 20 surveys with an average of $0.5, you would earn $100! You can also increase your earnings with different tasks that activates a temporary increase in how much every survey pays. Below is an image of the different tasks offered by Ebuno.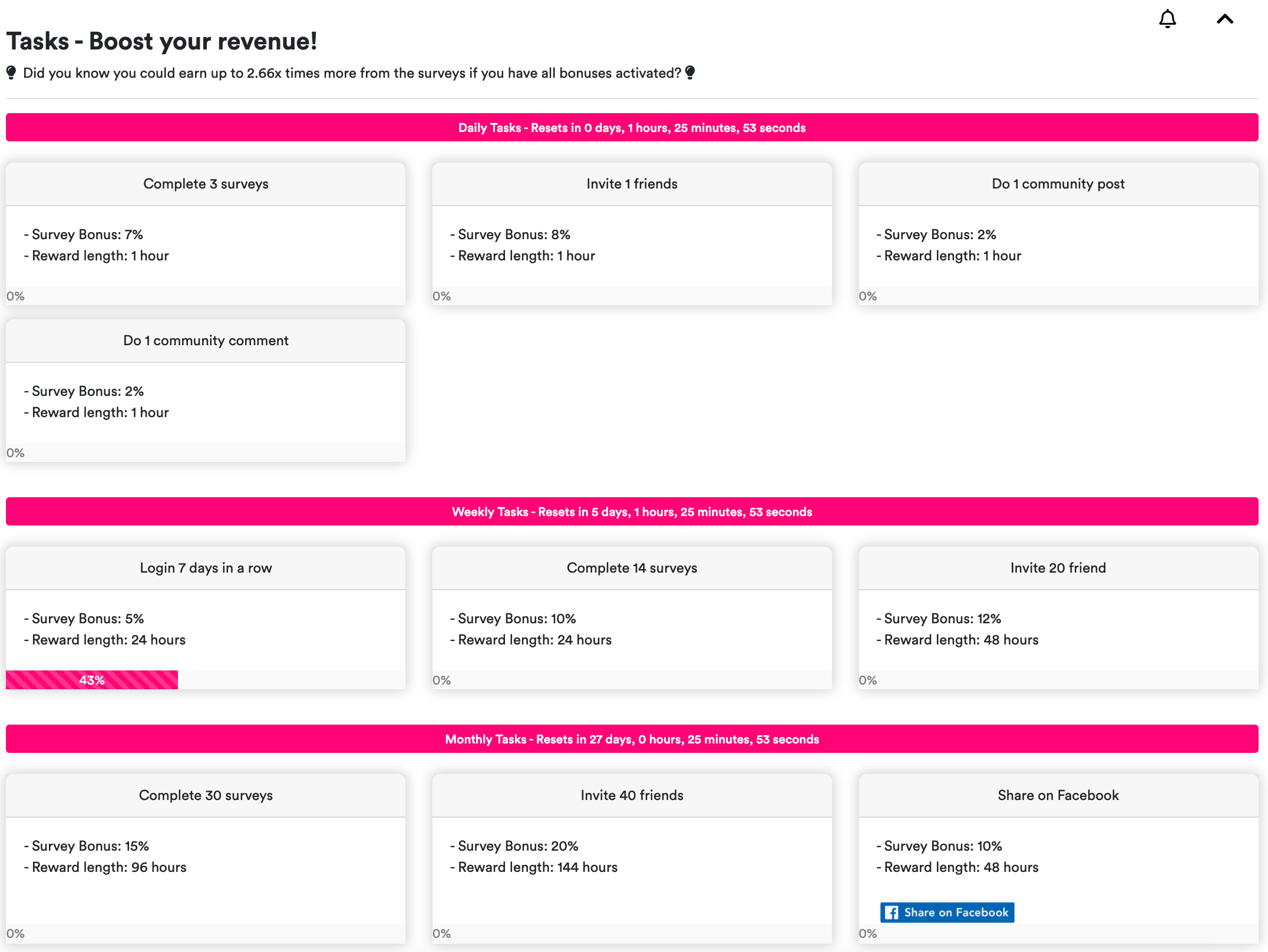 Signup
If you are interested of joining Ebuno, visit the homepage at

2. Swagbucks
Besides completing paid surveys, you can also earn money by browsing the internet on their approved search engine, using their mobile app or watching videos. You can earn a bonus if you sign up and then gain points whenever you do these different activities. You can then use the points to cash out with different retailers or cashback. The average payout is between $0.4 and $2.
Restrictions on
Swagbucks

Survey Panel

You need to be 13 years and over and a citizen of Australia, Canada, U.K and U.S.A or any other approved country.
Signup to
Swagbucks
Survey Junkie
You begin using this site by creating a profile so that the system can match you with the surveys that are associated with your consumer preferences. Afterwards, you can fill out surveys on your mobile device or computer and earn points for each survey. Later, you can redeem the points for e-gift cards or paypal.
Restrictions on
Survey Junkie

Survey Panel

You need to be 16 years old.
Signup to
Survey Junkie
InboxDollars
This site allows you to earn cash for completing online surveys, shopping, redeeming coupons, playing games and watching TV and videos. The site will give you a bonus of $5 for signing up and it offers a wide range of payment options. The average payout is between $0.10 and $0.025.
Restrictions on
InboxDollars

Survey Panel

You have to be 18 years old and above.
Signup to
InboxDollars
MyPoints
This is basically a rewards and shopping service that is based online. However, it also provides users with a chance to complete a paid survey for money. If you want to access promotions options such as redeeming coupons, watching videos, surveys and shopping rewards, all you need to do is sign up for an account. After you sign up, you will qualify for a $10 bonus. The average payout is between $0.35 and $1.
Restrictions on
MyPoints

Survey Panel

You must be 13 years old and above.
Signup to
MyPoints
LifePoints
The moment you sign up for this account, you will get relevant survey opportunities through email. Various surveys may need you to test out physical products first, visit certain sites and others have basic online questions. You can select the ones you want and the site makes an effort to send our surveys to the most relevant consumers. Users can also connect with a community of other consumers. The site has a points system that allows users to claim rewards which change with time. The average payout is between $0.20 and $1.
Restrictions on
LifePoints

Survey Panel

You need to be 14 years and above.
Signup to
LifePoints
Vindale Research
This site is quite similar to other survey sites in the industry, and by that I mean it's a site which offers what you c
Restrictions on Vindale Research Survey Panel
Users must be over 18 and live in Australia, Great Britain and the U.S.
Signup to Vindale Research
Toluna
This is a community of survey takers and influencers that is online-based. The site gives you a chance to earn points by referring others, playing online games and taking surveys. You create a profile and then gain access to community features that are most pertinent to you. When you accumulate points, you can redeem them in exchange for vouchers to different businesses and retailers. The average payout is $0.10 to $50 for every survey.
Restrictions on Toluna Survey Panel
You must be 16 years or and 18 years old for some incentives and surveys.
Signup to Toluna
Branded Research
This is an online-based community that companies use to gather relevant opinions from consumers. You can sign up with your email address or Facebook and then answer several questions in order to get matched with pertinent surveys to begin earning points. After that you receive updates on a daily basis with challenges, polls and other offerings that you can fill to earn points. The average payout is $0.05 to $3.
Restrictions on Branded Research Survey Panel
You need to be 18 years and above or at least 13 with guardian or parent consent.
Signup to Branded Research
PineCone Research
This site offers you the opportunity to complete online surveys about new initiatives and products. You begin by providing basic personal details. Then you can surf surveys on the site and earn points for everyone. This site pays better than most of the survey sites. However, some of the product tests and surveys require a lot of time to complete. And users might only get a few chances each day. The platform also has a variety of rewards, therefore, you can choose to redeem your points for cash or select a number of prizes. It pays $3 for each survey.
Restrictions on PineCone Research Survey Panel
You need to be 18 and above and live in Germany, U.K, Canada and U.S.
Signup to PineCone Research
How to maximize your earnings on paid survey sites
Fill out the initial questionnaire completely.
Complete surveys during weekdays.
Star with the highest paying surveys.
Be attentive while taking surveys; some have questions intended to gauge whether you are reading the questions or not.
Refer friends to your favorite sites to get bonus points.
Follow your preferred sites on social media
Sign up sites that offer bonuses when you create an account
Sign up many sites to ensure that you have access to many survey opportunities